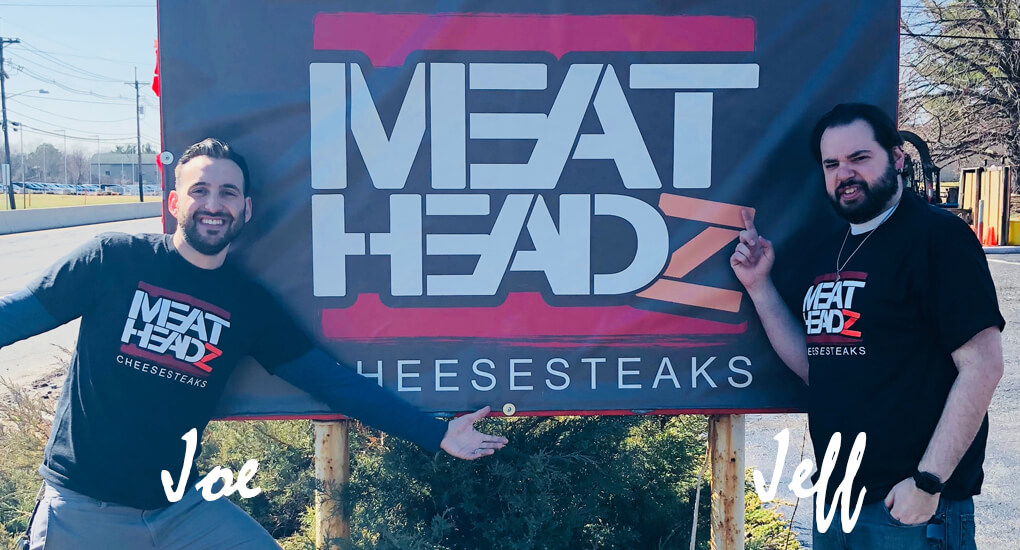 Hi! Our names are Joseph and Jeff. We're the owners of MeatheadZ Cheesesteaks! The both of us have always wanted to own & operate a resutrant! So we decided to bring our dream to life.
Food is our obsession and we absolutely love to cook. When we were younger, we watch my father cook dinner.  We learned so much from him. Nothing is better than a home cooked meal, and that's just what MeatheadZ will bring to you.
I (Joe) recently got married to my high school sweetheart, Lindsay, and Jeff is waiting for that special someone. I'm a big sports guy, basketball is my second passion.
We are very motivated and can't wait to work our tails off to bring you the best cheesesteak you've ever had!
MeatheadZ is all about offering delicious quality food using only the finest products and ingredients, efficient family-friendly service, and cleanliness. Being consistent with these qualities is how we bring in customers from all over New Jersey! Our customers know what to expect each time they visit us and we strive to deliver the best cheesesteak that you have ever tasted.. As we grow, MeatheadZ will become synonymous with the word "Cheesesteak." We are proud that our food is a true regional favorite.
Here's how we build this delightful comfort food sensation… First, we have the crispy warm roll that waits for its tasty salty slices of ribeye steak. Then comes those delicious sauteed onions, and maybe green peppers too before the whole thing begs for our special recipe Cheese Wiz to top off this classic cheesesteak sandwich, and make it a gooey delight. Some folks like to order it with melted provolone or American cheese, and that tastes great too. Every sandwich is made to order on the spot just for you.
Our entire family are BIG lifelong fans of the famous Philly cheesesteak sandwich. We drive down to Philadelphia whenever we get the chance, and we're always amazed at how people stand in long lines for this legendary, slightly greasy, hot sandwich. The guy behind the counter is usually shouting "Wit or wit out?". This is cheesesteak joint lingo asking the customer if they would like onion or not… Are you hungry yet?
It is no wonder why cheesesteak joints are very popular places. The lines for service are consistently long. We visit them not only to enjoy the good eats but also to watch successful operations that spin like a top and to learn what customers love most. Let's put it like this, we understand why people wait in these long lines. Now you don't have to travel very far to get your hands on one!
Originally from Philly…We're now bringing this iconic hot sandwich to New Jersey and will do it up the same authentic way. We're not talking some boring steak 'n' cheese sandwich like you get at a diner or pizzeria. MeatheadZ is a real deal cheesesteak joint. People will no longer have to drive over state lines to enjoy an amazing cheesesteak. We are open seven days a week from late morning until late evening. We also serve chicken cheesesteaks, hot dogs, Italian hot dogs, freshly made fries, beverages, and MORE. We offer all of your favorite comfort foods under one roof! So bring the family! We would love to meet and serve you!
Try our cheesy cheesesteaks, become a Meathead, and spread the word to your friends and family. We welcome you to the MeatheadZ family!